It is only a miracle of the highest kind and maybe the direct personal intervention of God Himself, that can remove/extricate flyboy extraordinaire and probably the most flamboyant, most glamorous, most in your face Nigerian International fraudster unparalled Raymond (Ramon Olorunwa Igbalode') Abbas aka Hushpuppi, aka Aja IV from the conundrum he has found or put himself.
For so long, while the mad unbridled fun lasted, he by himself like a drunken sailor far gone in his drunkenness, all by himself dug a pit daily for himself and now he and his cohorts have found themselves at the very bottom of the self dug pit.
While the going was supposedly good, he was like that character by name 'Tony Montana' in that cult favorite of all time -'Scarface'; who got very high, in fact crazily high on his own supply. He never for once envisaged that he would get caught. So he behaved wantonly like he was so legit and so good, so fu#$ ya all. And the unending tale of Hushpuppi's outstanding wealth, all made through crime has continued to astound all and in fact leave mouth agape!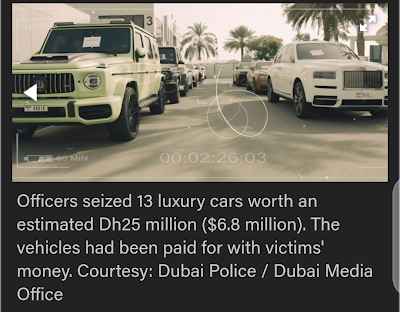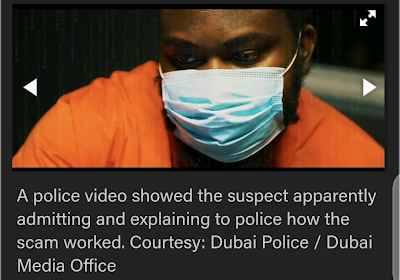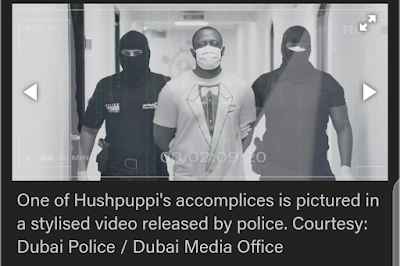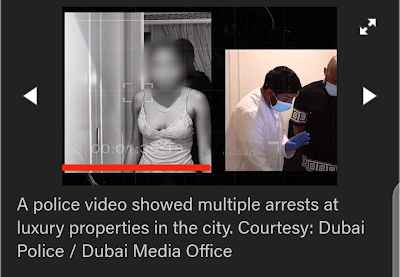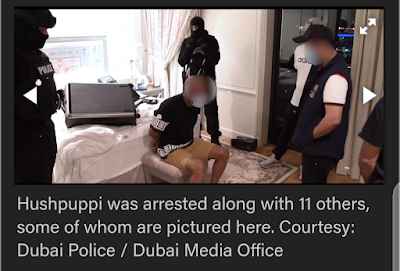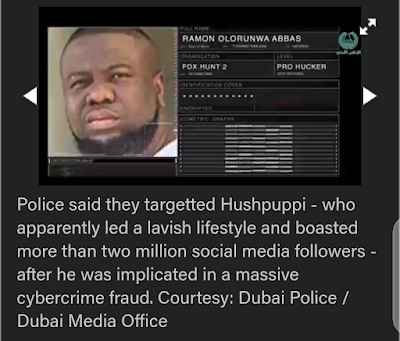 So the Dubai Police have come out to release some more unbelievable details of Hushpuppi and cohorts alleged fraud/crime network.
13 of them in all, were all that were arrested on that night in an unbelievable raid they had tagged ["Operation Fox Hunt 2" named after another successful raid they had done earlier in the year]. Seized from those arrested which included Hushpuppi, Woodberry and others in cash was a staggering [Dh 150million] which is approximately [$40.9million Dollars]. Also seized in that raid were [13 luxury cars of different brands] paid for by the victims of the scams to the tune of [Dh25million] which translates to approximately [$6.8million Dollars].
The raid was carried out by [6 police teams] and one of those caught alongside Hushpuppi is his lynchpin, Olalekan Jacob Ponle better known by his moniker Woodberry. Other items confisticated in the raid were [21 computers], [47 smartphones], [15 flash drives], [5 hard drives], [119,580 files] and more than [800,000 email addresses] of likely victims of frauds & they had already scammed a whopping 1.9m plus victims already! A staggering [Dh 1.6 billion which is approximately $435m plus Dollars] is the overall value of stolen funds from victims of various scams by just this gang alone!
According to the Police in Dubai, "The Nigerian is accused of creating websites that look identical to those of well-known companies and banks.
People were sent emails and messages that prompted them to log in or make payments on the fake sites.
Mr Abbas is accused of being part of a gang that hacked corporate emails and directed huge payments to accounts they controlled.
Mr Abbas posed as a successful businessman "celebrating his wealth via social media platforms, in an attempt to lure victims from all over the world".
"The suspects targeted victims overseas by creating fake websites for well-known companies and banks in a bid to steal victims' credit card information and then launder the stolen money,"
At the end of it all, all what this points to is just that all that glitters ain't gold. Never ever use another man's clock or timing to judge yourself.
At the end of the still on going Investigations Hushpuppi and cohorts still have cases of fraud to face in Europe, the US and even in Nigeria.